Key events
Suzanne Wrack's report
Sarina Wiegman's Verdict
Here's what that means for Jess Park
Full-time: England 4-0 Japan
Peeppeep! It's another brilliant night for England, who hammered home a good Japanese side. The game was slow to get going, but when it started England's intensity and drive was too much. Rachel Daly, Chloe Kelly and Ella Toone all scored – then Jess Park, who had just made her debut, provided the feel-good moment of the evening.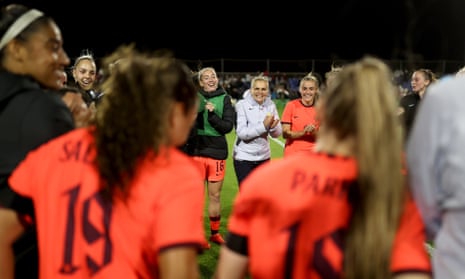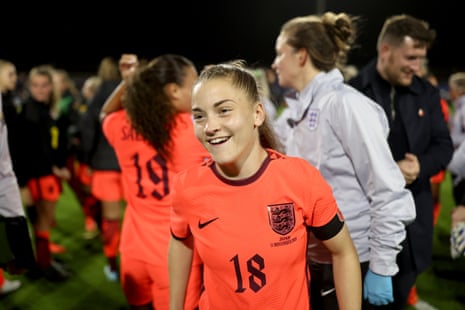 Jess Park owes Ebony Salmon a thank you, who bullied Minami off the ball near the touchline, moved into the area and slid the ball towards Park, arriving late in the penalty area. He was slightly behind her, but Park put the brakes on to control him, then happily hooked him into the empty net.
OBJECTIVE! England 4-0 Japan (Park 90+1)
Jess Park scores within two minutes of coming on for his England debut!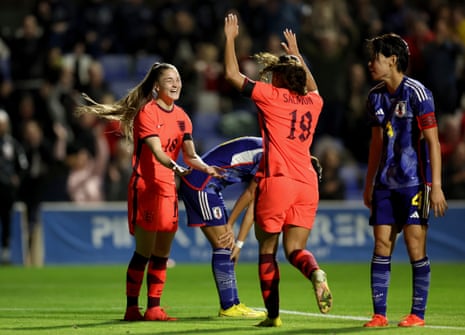 89 minutes Jess Park makes his England debut in place of Georgia Stanway, and Katie Zelem replaces Keira Walsh.
87 minutes Japan push hard for a consolation goal. Hasegawa has a pop of 25 yards, but that's too close to Earps and she's holding comfortably.
84 minutes A Japanese corner breaks for Nagano, whose shot is blocked by Daly.
83 minutes England bring in Nikita Parris for Ella Toone.
80 minutes Another half chance for Japan, with a shot from Fujino well blocked by Charles.
79 minutes Endo (I think) has a well-blocked point-blank shot.
Both substitutes played a big part in the goal. James charged thrillingly down the left, clipped the infield and tried to find Stanway with a square fly ball. It was deflected to Salmon, who slipped in a classy reverse pass to put Toone on goal. She sensed Yamashita was going to fall and confidently clipped the ball into the far-post net.
OBJECTIVE! England 3-0 Japan (Toone 77)
Ella Toone makes it three with a great goal!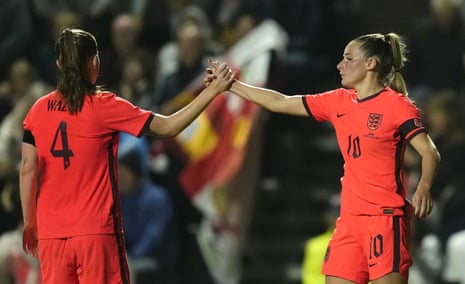 76 minutes Hasegawa's free kick was headed by Bright, but England were awarded a free kick because Tanaka was offside.
75 minutes Now Daly fouls Tanaka just outside the box. It's quite left of center, but it's still a chance for Japan…
73 minutes Bright receives a warning from the referee after eliminating Tanaka.
73 minutes As is often the case in friendly matches, the substitutions disrupted the course of the match. Very little has happened in the last 10 minutes.
71 minutes Two more changes for Japan. Saori Takarada and teenager Aoba Fujino replace Miyazawa and Miyake.
68 minutes The two full-fledged debutants, Niamh Charles and Esme Morgan, quietly had very solid games in defense. I think Mary Earps had one stop to make.
64 minutes Double change for England: Lauren James and Ebony Salmon replace Alessia Russo and Chloe Kelly.
62 minutes Miyazawa almost takes Bright's wrong side in the zone, but Bright manages to meet a significant challenge.
62 minutes Stanway sends a clean pass to Russo, whose shot is too close to Yamashita. It came to her quickly and she couldn't adjust her foot in time. But England are playing good things now.
61 minutes For once Kelly takes the wrong option, smashing the bar from a tight angle when Stanway and the others were in a decent position.
59 minutes Japan taps Mina Tamaka for Mana Iwabuchi.
58 minutes Endo, on the left side of the area, leaves just enough room for an imaginative cross shot that crosses the goal. It seemed pretty close.
56 minutes It took England a while to really get going, but either side of half-time they were excellent.
OBJECTIVE! England 2-0 Japan (Kelly 53)
Chloe Kelly doubled England's lead with a cracking finish! Walsh started the move with a nice smooth pass to free Mead on the right. His low cross was too far past Russo, but Kelly came in from the other side to smash an early shot past Yamashita at the near post.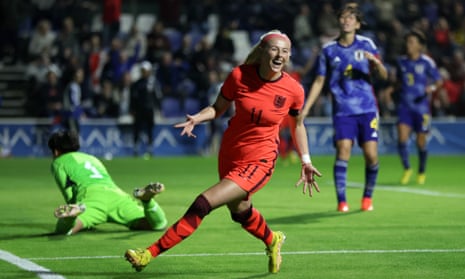 52 min: Lucky for Daly! An inventive England short corner ends with Daly smashing from 12 yards. It was a good opportunity.
51 minutes Mead's pass is half-blocked and runs to Toone, whose first shot is well blocked by Miyake's slip (I think).
49 minutes Miyazawa runs menacingly against a backing England defense but his through pass to Hasegawa is poor and Morgan intercepts.
47 minutes Russo limps slightly after an accidental collision with Hasegawa. I think she'll be fine though.
46 minutes Peeppeep! Japan start the second half; neither team has many changes at halftime.
Peeppeep! England lead thanks to an opportunistic arrival from right-back Rachel Daly. They were the most dangerous team in a decent game between two obviously accomplished teams. See you in 15 minutes for the second half.
45 minutes Earps desperately backs up to fend off the corner, a little effective as a goalie.
44 minutes Iwabuchi's free kick hits the wall and deflects for a corner.
44 minutes Bright is a bit too aggressive in shoving Iwabuchi, and Japan have a free kick 25 yards from goal. It's slightly left of center…